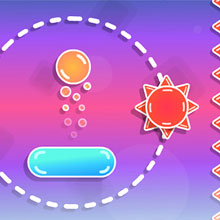 Line Climber is the arcade game in which you must control a bouncing ball that will continue to rise up the screen as it bounces off of platforms. If you love playing games such as Doodle Jump, then you will love this too.
There are 20 levels to complete which all have obstacles and tricky items that will make you fail within them. The platforms that you need to bounce on will catch you out also, they will move side to side and decrease in size meaning that you need to be vigilant as you progress in this game. Good luck!
.
Loading..Please wait..
Game Loading...