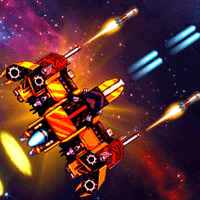 Galaxy Fleet Time Travel is coming! In the game, you'll become a Star Trek adventurer in space alone, complete an adventure mission, and need to collect gold coins and space energy to unlock seven characters: Space Thieves, Star Alliance members, Alone, Robot, Mystery, Spacetime Traveler, and Star Lord. 45 A player's aircraft, and will face dozens of explosives enemy aircraft, explore dozens of planets with different unknown hazards! What's even more exciting is that every time you take a shuttle, you face a new planetary challenge until you reach the ultimate difficulty! Fortunately, the game has prepared for you a lot of random props and equipment, cool effects will make you linger! Well, start a new adventure and challenge!
Arrow Keys To Control The Aircraft Movement, J K Or Z X Release Skills, Space Bar To Switch Aircraft Formation.
.
Loading..Please wait..
Game Loading...